The Dental Assistant Reference Manual
Last Updated on September 2, 2023 by Anna Baumann
The Dental Assistant Reference Manual
I recently introduced a Dental Assistant Binder. But, I now have the same information in a ready-made book. Most of my feedback was that people feel it's a hassle to download, print, and assemble their own binder. And I get that! So I reworked things, and published the information as a customizable manual. Then, I renamed it Dental Assistant Reference Manual. (I couldn't call it a binder anymore because it's a book now. 🙂 ) It offers the same templates, but it's all printed out and ready to roll!
Dental Assisting is a tough but awesome job! I know because I was a Dental Assistant for a long time before I moved to the front office. Being super organized was a big factor in my Dental Assisting success and sanity. If you want to know one of the best secrets of an organized and peaceful Dental Assisting day, then I have three words for you; write stuff down.
It's a fact of Dental Office Life that every office is unique and every dentist wants things done differently. Having a dependable reference manual keeps things on track by organizing your most important job duties and keeping everything you need in one convenient place.
What is in the Dental Assistant Reference Manual?
The Dental Assistant Reference Manual contains a group of printable and customizable templates. It's divided into three sections; Lists, Setup, and Materials.
Lists

Opening
Daily
Closing
Weekly/Monthly
Lab Tracker
In-house Lab Tracker
Supply Order List

Setup

Bur Blocks
Instrument Packs
Procedures

Materials

Material Use Instructions
What are the Benefits of the Dental Assistant Reference Manual?
Tracking. Track tasks and ensure they're completed. Checklists are a simple but powerful tool for keeping tabs on things. Especially if you work with a large team.
Reference. It's a comforting source of information when you can't remember something! Like when you need to set up for a procedure you haven't done in a while or use a material you haven't used recently. And, it's a handy training tool for new hires and temps.
Organization. Each doctor has their preferences for operatory setup and the materials they use. If you're in a multi-doctor practice, you can either flag pages of each section for each doctor or create separate manuals for each one.
Assistant Reference Manual Template Examples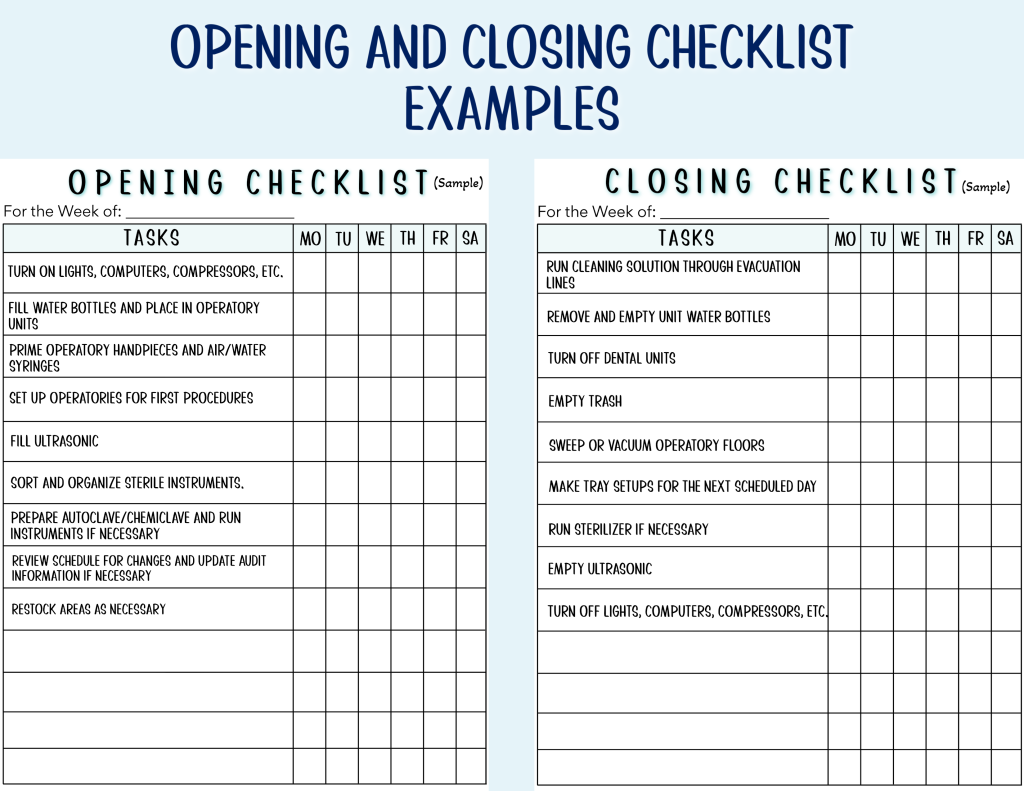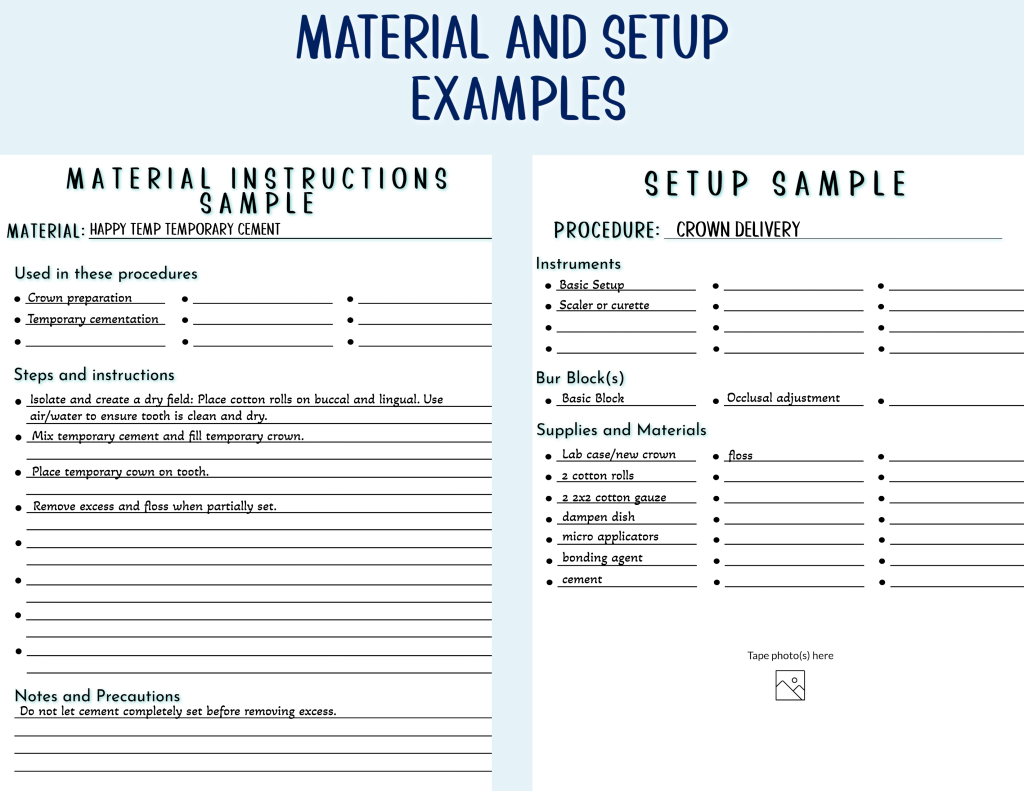 I think most of us really want to be organized at the office, but sometimes it's hard to know the best way to start. That's why you'll appreciate this customizable manual. It gives you your jumping-off spot!
So, there you have it! You can CLICK HERE, or select the photo below to purchase the Dental Assistant Reference Manual. I also have a few other great Dental Office (and Graves Disease-related) books in my SHOP if you'd like to check them out. I hope you find this helpful in your Dental Office Life! Please comment or get in touch with me if you have any questions!