Four Simple and Terrific Tips for Organizing Time and Space in Your Dental Front Office
Last Updated on September 24, 2023 by Anna Baumann
Four Simple and Terrific Tips for Organizing Time and Space in Your Dental Front Office
A lot goes on at the dental office front desk and front office areas. Patients coming and going, phones ringing, and all of the administrative, behind-the-scenes stuff. When I get overwhelmed, I forget important things. Stressed is my least favorite emotion, so I do all I can to stay organized and function well at work. If you're a fellow Dental Front Office Ninja I'm sure you do your best to streamline your dental office life. Today I'm sharing my four simple and terrific tips for staying organized in your dental front office. I hope they help you, and I welcome you to comment and share some of your own terrific tips!
Eat Frogs and Make Plans
"Eat that Frog"
I've talked about "Eating the Frog" before. Mark Twain first said it and Brian Tracy, a motivational business speaker/trainer, wrote a book about it. Eating the frog means doing the tuff stuff first. It's a fun way to think about prioritizing. When I walk into the office knowing I have icky conversations or sticky situations on my agenda, I tick them off my list first. With those frogs out of the way, I can focus on the rest of my day with a clear mind and a lighter heart.
I know we all have lots to do! So if there's so much on your to-do list that you have trouble identifying your frogs, do what I do. The night before, I take a few minutes and review my next day's task list. My frogs are anything that sparks a reaction of annoyance, stress, or fear.
Make Plans
We can't plan incoming calls and dental emergencies. But we can plan when and how we work on almost everything else, which ensures we're getting the most out of our time, and nothing falls through the cracks.
If there's only one or two of you making up the front office team, designate who does what and set aside times of day and/or days of the week for every front office task. From your daily schedule audit to outstanding claims follow-up, map out a plan that works best for your office so everything gets done.
If you're in a large practice working in one department, list your responsibilities and make a schedule for yourself.
Even if you do nothing else in this post, eat frogs and make plans. Prioritizing tasks and good time management are simple things that are too often overlooked. But they are truly the foundation of a productive dental front office.
"Eat a live frog first thing in the morning and nothing worse will happen to you the rest of the day." ~ Mark Twain
Write it down
I have actual medical issues that give me brain fog and make it hard to remember things. (But honestly, even before that I forgot important stuff.)
Daily notes
The front desk is usually where the phone rings and patients check in and out. Being responsible for those three things simultaneously will challenge the best multitaskers. When the day gets going and three things happen at once, it's hard to remember all we need to catch up on when there's a lull in the action.
A notepad and pen are always beside me at my desk. (I use Post-its only for messages that I give to other people.) I used to use a prompted form. But now, since my brain is programmed and knows the drill, it's just blank notepaper with a mess of notes on it. It's super simple because I only jot down the highlights to trigger my memory; the caller's name and number, action or follow-up needed, and if there's a deadline. I made a cute version of my prompted form if you want to try it.
Get Your Prompted Incoming Calls and Follow-up Form!
Paper planners
If you're not already in the habit of using a paper planner, start today! I love writing, but that's just one of the reasons I enjoy using a planner. The main reason is, I'd be lost without it.
Great reasons to use a paper planner:
It helps you remember stuff. Obvious but true! Keep track of important dates, things you have to do, brilliant ideas, and goals you want to achieve at work and in life.
You begin each day focused and organized. Start each morning and end each day by reviewing your planner. Keep it with you throughout the day to stay on task and jot down what you need to.
It sparks creativity. Writing loosens up your brain so all the good thoughts spill out! You'll be surprised at the great ideas that pop into your mind as you jot things down.
I've never found a planner specifically made for the dental office, so I created one. I think it's super helpful because
It's pretty. Pretty paper inspires good ideas. I'm almost sure that's a scientific fact. 🙂
It includes the things that are most important to the Dental Front Office; a weekly personal page, daily space for things you want to remember to add to the morning huddle, a password log, and a monthly practice tracker.
Check it out here!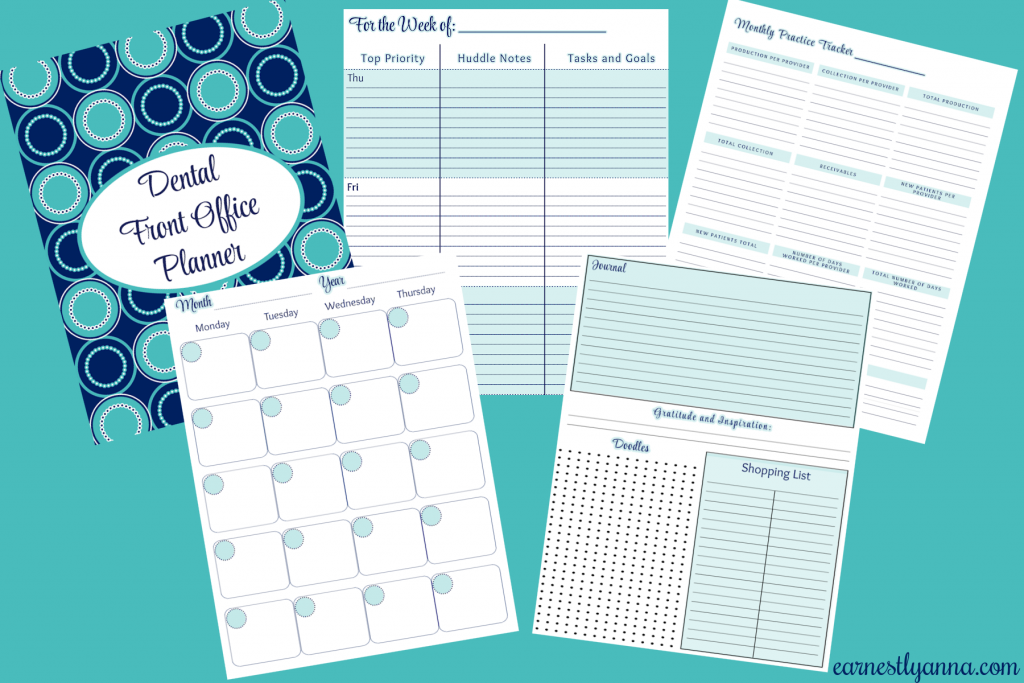 "One of the biggest lies I tell myself is, I don't need to write that down. I'll remember it!" ~ Everyone
Departmentalize and Rearrange
The dental front office runs smoothly when people and things are in the best place.
Departmentalize
Evaluate your staffing situation to ensure that
You have the right number of front-office team members for the workload.
Team members have clear-cut job descriptions and are in positions that utilize their strengths.
I talk more about that HERE.
Rearrange
Evaluate your workspace. It's a rare thing when our desk or workspace naturally feels comfortable. Even though we can't move walls, we can make the best of it. Any small and simple changes or adjustments you can make add up throughout a long workday.
Rearrange the furniture.

Switch the phone to your dominant side (get a longer cord if necessary).

Get a footrest for under your desk.

(I bought this one for my Mom. It works great and she loves it!)

Keep a sweater over your chair. (Name it your "work sweater" and unless you're taking it home to wash it, take it off and leave it over your chair each night so it's there when you need it.)

Ask for a small heater or fan (or both) if the room temperature gets extreme enough that it affects your concentration.

(I have both on my desk.)

Function over fashion! If there are office supplies, gadgets, or forms that you use often, keep them within reach. Desktop file holders and other organizers help with clutter. As long as it's neat and functional it doesn't have to be pretty. Don't sacrifice convenience for appearance.
"Organization is what you do before you do something so that when you do it, it's not all mixed up." ~ A.A. Milne
Automate
Patient communication
If you haven't already, start using an automated patient communication system. They are life-changing because they:
Save huge amounts of time and keep the front office on task. They can completely replace manual appointment confirmation calls, Recare follow-ups, and your after-hours answering service.
Reduce patient no-shows and cancelations. When you work your reminders and Recare manually, your options are limited. Automation means that your patients hear from you more frequently. You set your frequencies for sending multiple communications using most patients' preferred methods; text and email. Then they're more likely to respond and less likely to forget. (If you'd like some inspiration for choosing your settings you can see my ideas HERE).
Enhance your relationship with your patients. Pick one that allows patients to easily respond to and initiate communication with the office via text and email. I used to be a phone snob thinking that texting was impersonal, but that's an unpopular opinion. I often have entire conversations with my patients via text when they're scheduling dental appointments while also running around juggling life. We both enjoy the interaction and they love the convenience!
Intake Forms
Getting patients' information in the office before their arrival gives you a great head start. Every bit of extra time helps to get chart information into your software and verify insurance coverage. If they can access forms on your website and if they're auto-attached to your new patient welcome letters, you have a much better chance that they'll complete and submit them before their appointment day. It's not a guarantee, but it's smart to offer those options.
"Technology is best when it brings people together." ~ Matt Mullenweg
I hope these terrific tips make your dental office life a little less messy and stressy!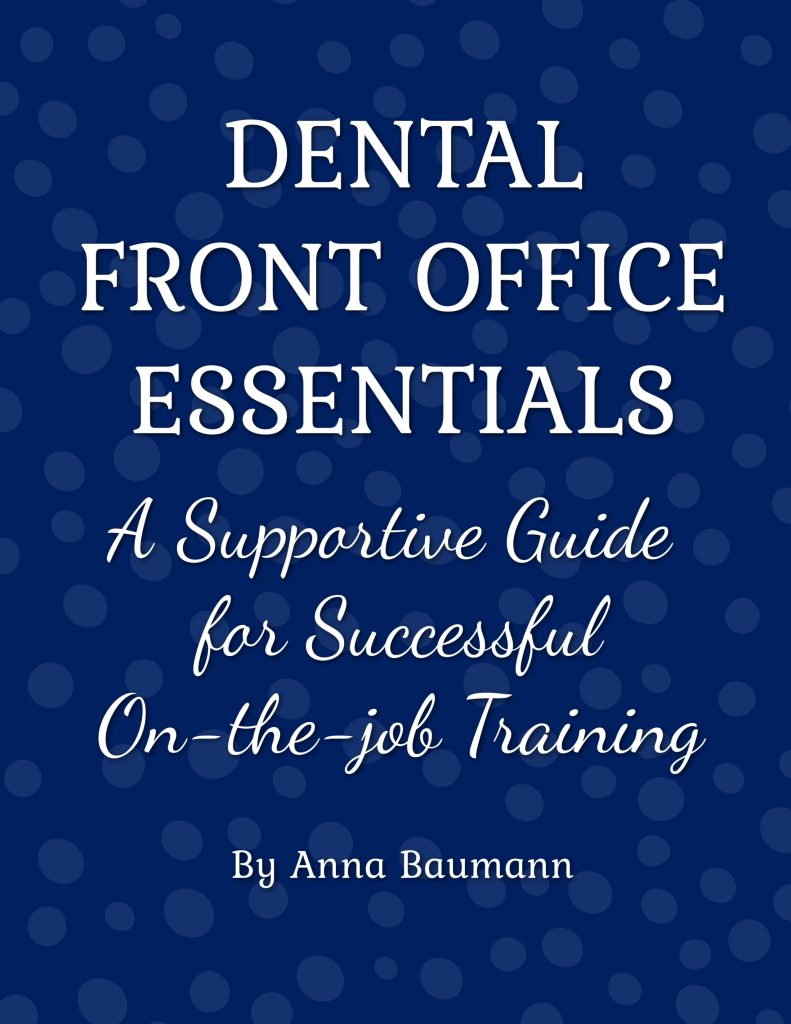 SHOUTOUT to Jennifer Patel and her new dental-related Podcast! She pulls no punches discussing the challenging side of working in the dental front office. You'll find it on Spotify at Confessions of a Dental Office.