Carnival Breeze Cruise Review
Last Updated on September 24, 2023 by Anna Baumann
For those who don't know this, I met my husband in July of 1993 on the original Carnival Mardi Gras. We've cruised almost every year since, and have been on almost every class of Carnival ship. This past February was our first time cruising the Dream Class. I'll tell you what we loved, and what we didn't right here in my Carnival Breeze Cruise Review!
Itinerary
We chose a 7 day Western Caribbean for the week of February 23, 2019-March 2, 2019.
Fun Day at Sea
Cozumel, Mexico
Belize
Mahogany Bay, Isla Roatan
Costa Maya, Mexico
Fun Day at Sea
Transportation
The ship departed from Port Canaveral, Florida. We flew in the morning of our cruise to MCO and took Cortran Shuttle Service to the port. This was a great decision! You never know what to expect when all you're going on is Google Reviews and gut instinct. I made reservations online several months before our trip. Once we landed and had our luggage, we made our way to the parking space area that they pre-arranged with me via email. Shortly after we arrived my cell phone rang. It was our driver letting us know that he was five minutes away. He was exactly that! We paid for our trip to the port and also pre-paid for our return trip. They loaded us up and off we went. The trip was safe and comfy. Our driver was friendly and professional and we were at the port in under an hour.
On our return trip we again, made our way to the pre-arranged area, hopped on our shuttle and were at the airport in plenty of time for our flight. Great, hassle-free experience! If you've got a cruise booked out of Port Canaveral and are flying into MCO, you should check them out. I believe they also run shuttles from the airport and ship port, to area hotels.
The Ship
Once you've cruised a bit, you become familiar with each cruise line's basic ship layout. We're comfy on Carnival. The Breeze has a very similar layout to the rest of the line, with a few big differences.
You can get outside from the Promenade Deck
The Dream Class is the first class of ship where the Promenade Deck isn't completely enclosed. It was great to grab a drink at the coffee bar and walk right out onto the deck. It also cut down on the smoke smell from the casino because doors out to the deck were constantly opening and closing.
The Ocean Plaza
It's new and it's an amazing space to hang out right in the middle of all the action. There's live music, lots of seating and small food buffets pop up now and then.
Cherry on Top is HUGE
We are frequent visitors to Carnival's fabulous candy shop. The shop on the Breeze is three times the size of the ones on the Conquest Class, and it has a huge variety of treats!
Thermal Suites
The Thermal Suites in the Spa are roomy with amazing ocean views. We aren't ones for getting massages or other spa treatments. But we really enjoy the steam rooms and the thalassotherapy pool. We purchased the Couples Thermal Suite Pass and spent a lot of time relaxing in that area.
The one thing that I did not love was the obstructed view of the water from our balcony. We were on deck seven. Deck five is the promenade deck that circles the ship. While I loved actually spending time on deck five, it's the widest deck on the ship and juts out pretty far. So all of the balconies above it, look down upon it. I like people watching. But sometimes I just want to stand on my balcony and watch the waves and sea foam. I was really disappointed with this view. Next time we'll book one of those Cove Balconies I've read about that are underneath the lifeboats.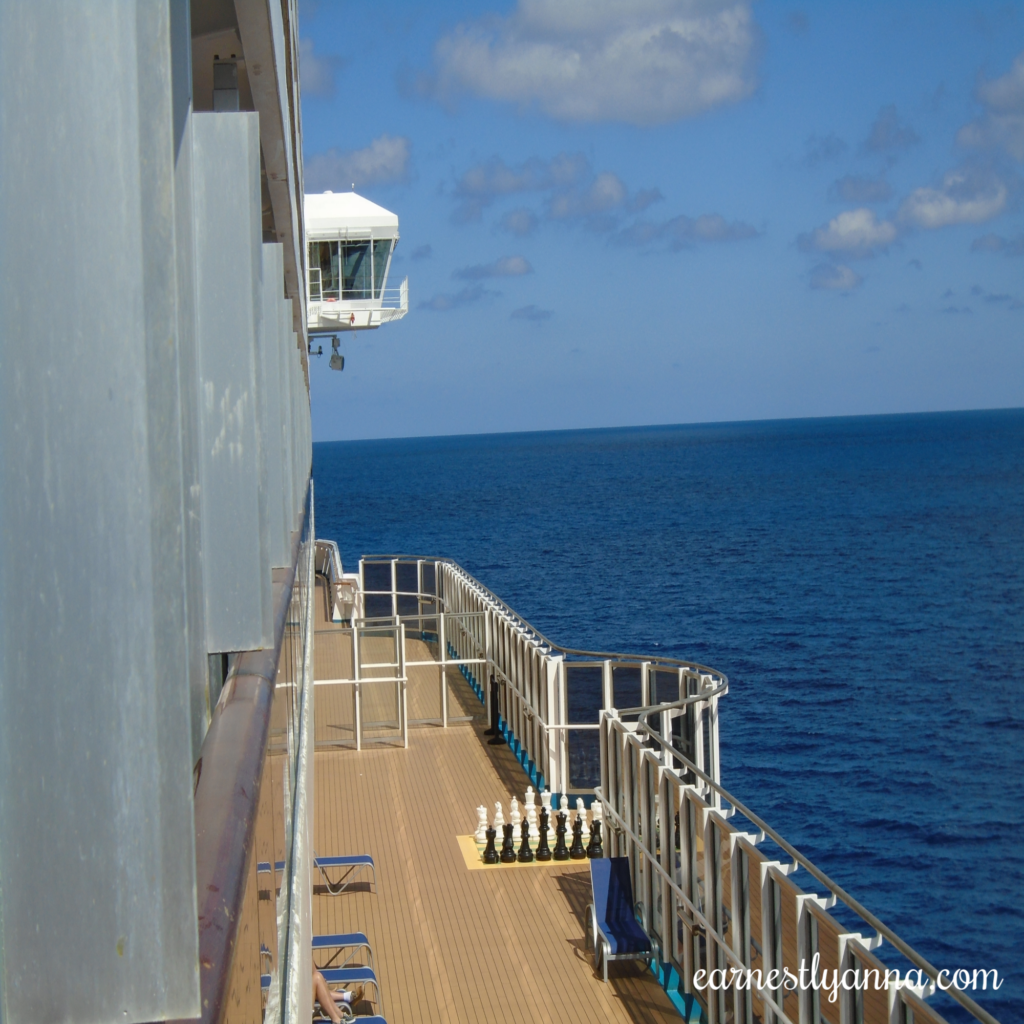 The Ports
Cozumel
We've been here before and didn't book an excursion this time. Instead we opted to do some shopping on our own. Puerta Maya has a great shopping area right at the end of the pier. Once you make it through the massive duty free jungle, you'll find all kinds of great things!
After we picked up some vanilla extract and souveniers, we decided to grab a snack at Tres Amigos. That's the fun restaurant/bar that's right off the pier. The guacamole and fresh lemonade were delish! I'm not a drinker but I'm told the margaritas were amazing!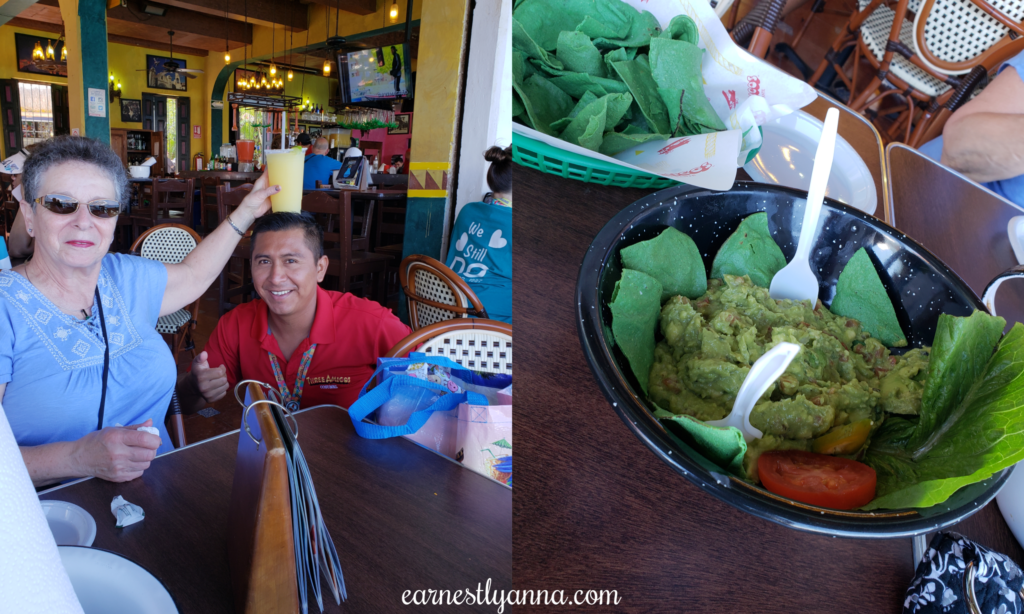 Belize
Belize is a tender port. If you've not cruised before, this means that the ship does not dock at a pier. It anchors out a ways from the port, and passengers are tendered in on small boats. Some people feel this is a tedious process. But I don't mind it a bit! Any time I can get an extra boat ride into my day, I'm a happy camper!
Speaking of boat rides, that's exactly how we spent our day in Belize. Carnival offers an excursion called Scenic Wildlife River Cruise. Their boat is docked fairly close to the tender pier. It was a short boat ride from there to the start (or end?) of the Belize River.
It's a fun, interesting and very scenic ride. I enjoyed it! My husband and several others felt that things were a bit 'staged'. I imagine that could be true since I'm sure they want passengers to see at least some wildlife on their wildlife tour. We saw manatees, monkeys, birds, iguanas, an alligator and a dolphin. If you go be sure to wear a hat and sunscreen or you'll bake like a muffin!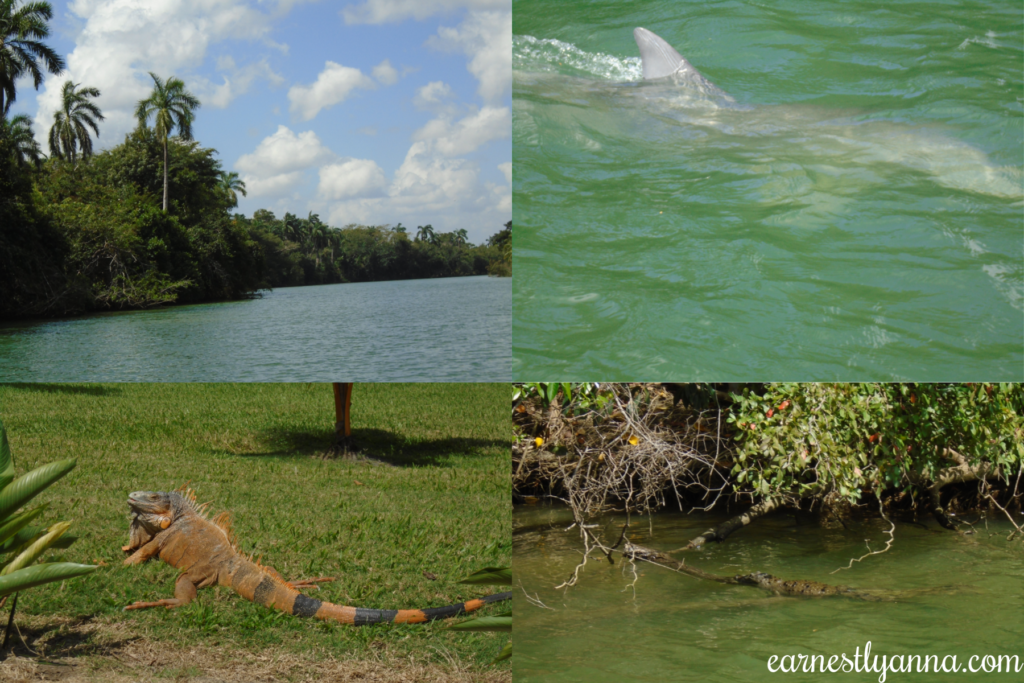 Roatan
This was the one day of our trip when the weather wasn't so great. We booked the Carnival excursion to Maya Key. It's kind of like a beach, snorkeling and zoo excursion all in one.
The day was rainy and muggy. The ride back and forth to the island was a lot of fun because the ocean was really choppy! We all got plenty of sea spray! After taking a walk around the island, and saying hello to all of the animals, we settled in on some covered lounge chairs to read and relax in the rain.
Maya Key is really beautiful, and weather permitting would be a fun place to spend the day!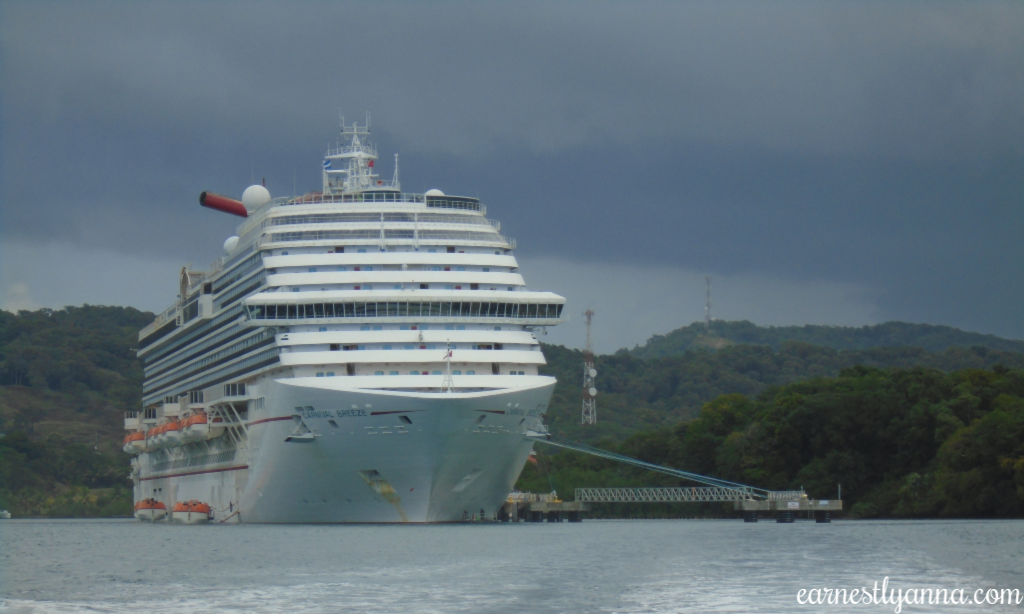 Costa Maya
Once again, we decided against booking an excursion. We weren't in port for very long, so we just walked down the pier to see what we would find close by.
The shopping area is big with lots of cute souvenir shops. There's also a huge swimming pool, bars, restaurants. The best part for us though was the bird aviary. We've never seen anything like it! I believe the cost was about $12 US dollars and it was well worth it! They built it way up in the trees. The birds were beautiful and the views were amazing! It took about an hour to walk the whole thing.
The Breeze was only in port from 7:00 AM until 2:00 PM, so spending those few hours right in the port area worked out well for us. We didn't have to wake up at the crack of dawn to meet a tour, and we still had a great time!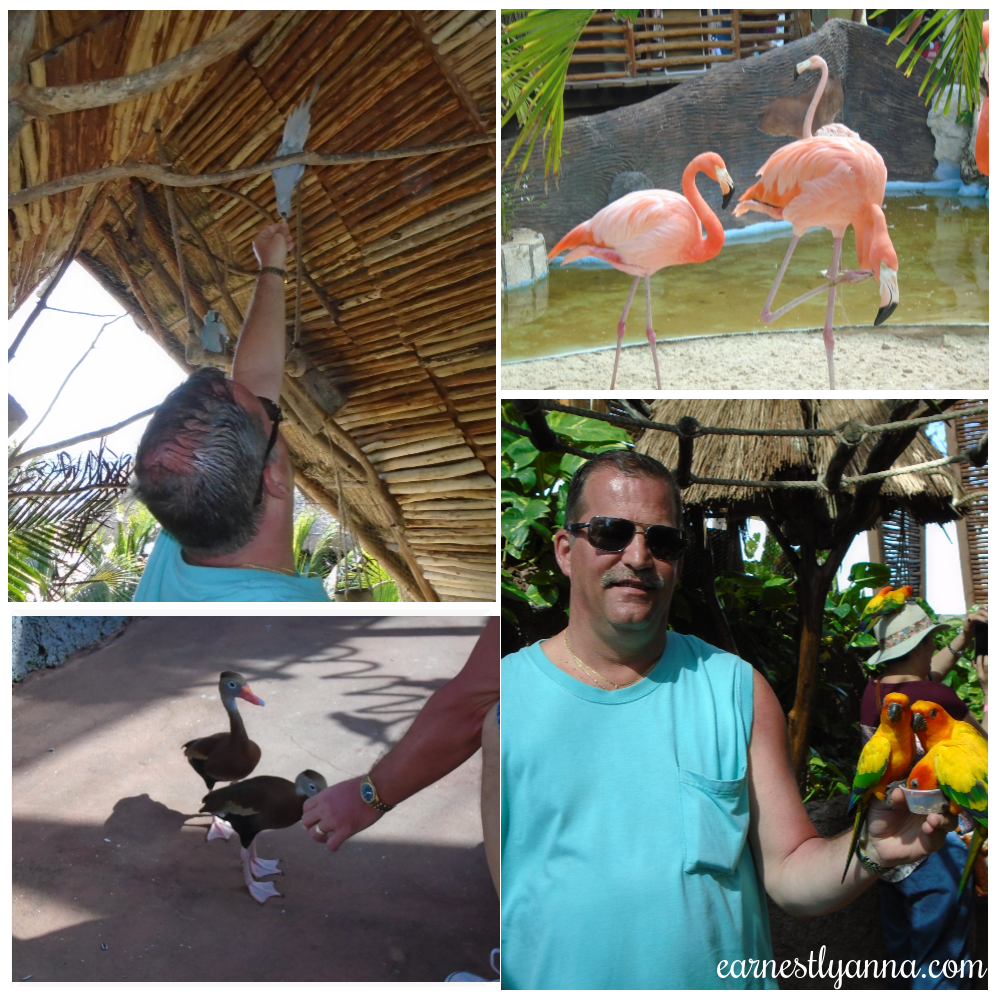 Carnival Breeze Tips
Find a peaceful spot outside on the promenade deck.
It's almost impossible to find empty lounge chairs on a sea day, near the pools, or on the Serenity Deck. Not because everyone is out enjoying the weather. But because people are rude. They'll throw their crap on chairs in the morning, run off to have fun somewhere else, and expect to find the empty chairs waiting for them when they're ready. Deck Five (Promenade Deck) on Carnival Breeze has lots of great areas to relax. And since there's not a lot going on there, it isn't all that crowded. You can grab a lounger and read a good book or just stare out at the sea. There are also some fun hot tubs that jut out over the water. But most of the time, they weren't that crowded and there was a more mellow crowd using them.
Spend time in the Ocean Plaza.
Trivia, live bands, snacks, and more! There's lots of fun to be had here! Check the Fun Times or just take a walk over there and see what's happening. It's kind of like the Lido Deck, without screaming kids or hairy chest contests.
Avoid the buffet on embarkation day.

This is true of all ships. Passengers are tired and crabby from their day of travel. The crew was up at the crack of dawn clearing customs, and turning over the ship. That's the one day of the week that the buffet is not a happy place.
Unlike most ships though, the Carnival Breeze makes it super easy to avoid the buffet. Cucina del Capitano is the Italian Specialty restaurant onboard. You'd pay extra to have dinner there during your cruise. But they offer free lunch on embarkation and sea days! There's also Guy's Pig and Anchor on Deck 5 that serves a free barbecue lunch. If you're feeling like really treating yourself, hit the Seafood Shack all the way aft on Deck 10! We tried it during our cruise and it was well worth the money. And hey, you're on vacation!
Explore!
This ship is huge and each space is filled with something fun to do. Start at the top and walk each deck down until you reach the passenger decks. There's a fun entertainment area forward on Deck 12. Ping pong, fooseball, mini golf, chess, etc. It's all underneath the ropes course. We wouldn't have naturally gravitated to that area, so we only found those other things by taking our own walking tour.
I always say that you can't have a bad time on a cruise ship unless you're actually trying to. I hope you go and that you enjoy every second of it just like we did! Please let me know if you have any questions!
'The ocean stirs the heart, inspires the imagination, and brings eternal joy to the soul.' ~ Robert Wyland